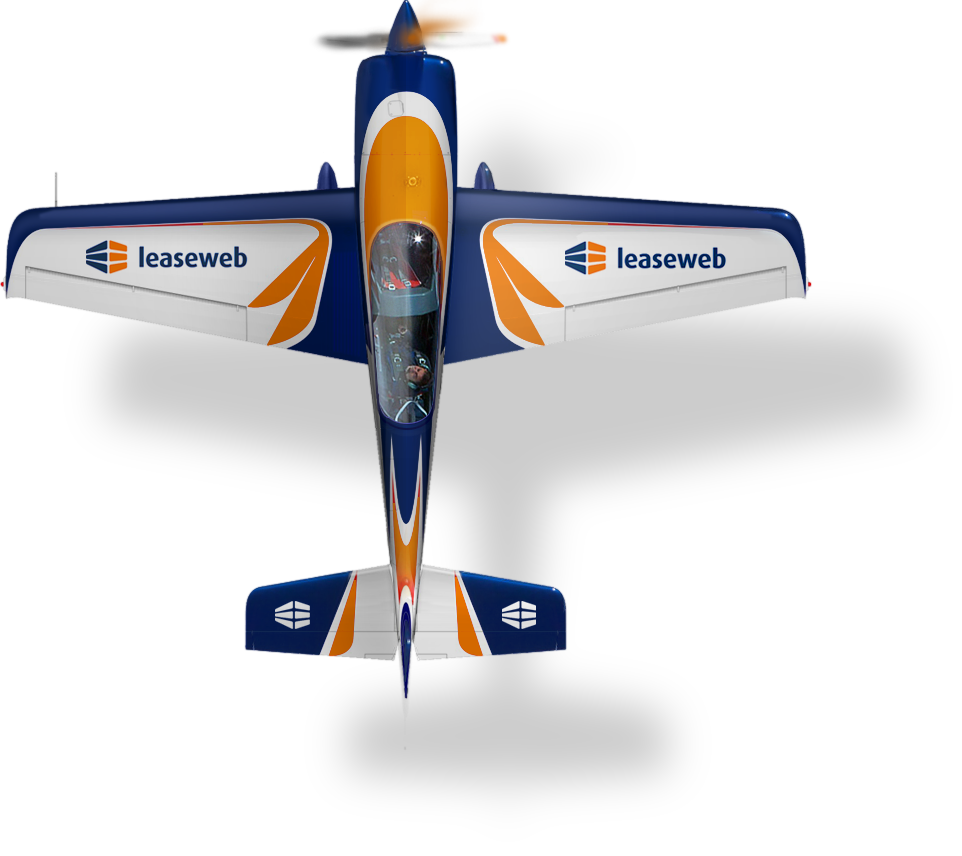 LeaseWeb has a spectacular introduction to the Cloud for you, with our own airplane: the LeaseWeb Extra 330LT. This is an extremely maneuverable plane, capable of reaching speeds of almost 400 km/hour (almost 250 miles/hour).


You will receive an email confirming your flight's departure time from Lelystad Airport. We kindly ask that you arrive half an hour before departure.
The whole flight will last about an hour. Before takeoff, you will put on a pair of protective overalls and a parachute. You will be in the air for about half an hour, depending on the weather and other conditions and how you feel during the flight. You and the pilot can decide together how exciting to make the flight. Although the Extra 330LT is suitable for intense aerobatics, you can, of course, opt for a calmer flight if you prefer.
The LeaseWeb plane is fitted with cameras, and you will receive a USB stick with a lasting memento after the flight.

In order to ensure that your flight proceeds as safely and comfortably as possible, we ask that you make the following preparations:

Try to avoid eating or drinking anything for several hours before the flight (we will provide snacks and drinks afterwards).

You will be putting on a pair of protective overalls and a parachute. Therefore, please wear comfortable clothing in which you can move easily.

3. The seats for the pilot and passenger in the Extra 330LT are relatively small. If you weigh more than 100 kilograms (220 pounds) or are more than 2 meters (6 feet 6 inches) tall, please be aware that you might not fit into the seat. The Extra 330LT is also known as the 'Speed Demon'. The plane is powered by a Lycoming AEIO-580 engine, with a capacity of over 315 horsepower. This makes the Extra 330LT the fastest non-turbocharged, single-propeller airplane in the world! The plane has a maximum speed of almost 400 kilometers/hour (almost 250 miles/hour) and has been designed to be able to withstand forces of up to 10 g. This makes even an 'ordinary' flight in the Extra 330LT an unforgettable experience.
More information on the Extra 330LT can be found on the Extra Aircraft website.